Purposes & Activities

Organization & Financing

Per Jacobsson Biography



Founding Sponsors

Directors & Officers

Events

Lectures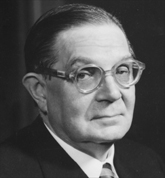 PER JACOBSSON was born on February 5th, 1894 at Tanum, Sweden. He received degrees in law and economics from the University of Uppsala, and subsequently lectured in economics for two years at the Stockholm Schools of Forestry and Engineering.

He was a member of the Economic and Financial Section of the League of Nations Secretariat from 1920 to 1928, taking an active part in its financial reconstruction work in Europe and thus starting the career of international public service to which he devoted most of his life.

In 1931 Per Jacobsson became head of the Monetary and Economic Department of the newly-established Bank for International Settlements. He was responsible for writing the Bank's Annual Report, which acquired, under his guidance, a world-wide reputation. He also undertook many important assignments outside the Bank. He was a member of the Irish Banking Commission, whose report led to the establishment of the Central Bank of Ireland, and he conducted a number of special inquiries into the economic and financial problems of Austria, France, Germany, Italy, the Netherlands, and the Sterling Area. In 1952 he was instrumental in setting up the Basle Centre for Economic and Financial Research.

He took up his duties as Chairman of the Board and Managing Director of the International Monetary Fund in December 1956, where he served until his death on May 5th, 1963. Under his leadership, the Fund greatly increased both its financing activities and its authority and influence. His personal efforts contributed in no small way to the major monetary developments of these years-the move to convertibility of the major European countries and a substantial increase in the size of the Fund's financial resources.

To all his work, Per Jacobsson brought great intellectual force and technical experience as well as a warm and outgoing personality. His circle of acquaintance included a great variety of economists, writers, bankers, government officials, and political leaders all round the world, to whom he was a gracious friend and trusted advisor. Per Jacobsson was a scholar of international reputation in the field of monetary economics. He was a deep student of history, of politics, and of the basic philosophies of many peoples in many lands. And he was also a tireless worker in these fields, one whose practical experience was world-wide and covered a period of years notable for farreaching economic and political changes. His vital and direct involvement in the international aspects of the subjects which he had taken as his life work brought him the trust and recognition of governments. And these found expression in honors and positions of high public trust and responsibility.

From these positions he exercised what was perhaps his greatest gift: his ability to communicate to others the complex ideas with which he dealt. This he did in such a way that the essence of these ideas came alive and the basic issues became clear. His persuasiveness was often a matter of setting forth the facts of a situation so understandably that the logical course of action that flowed from them revealed itself as inevitable. He believed firmly that intelligent, practical people, if they are well and fully informed, will take the right decision collectively through the market place or through the polls. He therefore felt it his duty to inform, to explain, to place events in their proper perspective historically, politically and economically, in order that those responsible for high policy decisions-and those who must provide the public support for those decisions-will do so on a sound and accurate base.